New life 1978 – 1982
Active but nostalgic years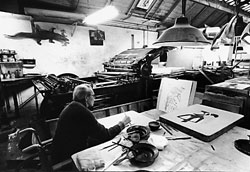 The year 1978 started out as an eventful year with major exhibitions underway: Brussels, London (Dada and Surrealism Reviewed); Vienna (Surrealismus aus der Sammlung: The Museum of Modern Art, N.Y.); Turin. After their inaugurations, Lam was once again in Albissola, and in August settled down to work in Giorgio Upiglio's studio in Milan. It was while he was working in the studio that Lam suffered a brain stroke and was promptly hospitalized. After several months, he was transferred to Saint Gall. Two retrospectives, in Denmark and Norway, took place without his presence. He was partially paralyzed and resigned to a wheelchair but soon found the strength to attend his exhibition in Mexico City, Wifredo Lam, coleccion Museo Nacional de Bellas Artes de la Habana, Cuba. In addition to his contribution to the event, Expression afro-cubaine, organized in Nanterre, France, in 1979, his painting La Jungla was presented at the Centre Georges-Pompidou for a period of two months. Determined to participate, if only by principle, he contributed work to the collective exhibition celebrating the Cuban Revolution at Unesco. And similarly, in April, he paid homage to his friend, the late Pierre Loeb, by participating in the exhibition L'Aventure de Pierre Loeb, la Galerie Pierre, Paris 1924-1964. His friend, Alain Jouffroy, dedicated a special edition to his life and work in the review XXe Siècle, in which all Lam's friends were present. Despite his handicap, he continued to create: drawings, engravings and ceramics, and even a few sculptures.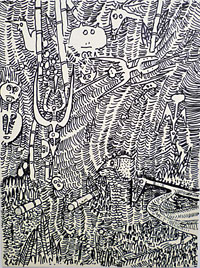 Lam's diminished physical handicap weighed heavily on him, compounded by an increasing nostalgia for his homeland, Cuba, and a tendency to become withdrawn. From this point on, he spent a few months of every year in Cuba. In April, 1980, he decided to follow a special treatment at the Franck Pais hospital, during which time he was interviewed by the filmmaker Umberto Solas who wanted to make a film on the artist. And it was during his treatment that he learned of the death in Paris of Alejo Carpentier on April 24, his compatriot and the last witness of his early years; it was a cruel loss indeed. Carpentier, according to his wishes, was buried in Cuba on April 28, an occasion for Lam to pay homage to his friend. Lam then returned to Paris to spend the summer with his family. He would spend another two months in Cuba the following winter. During his stay, he had conversations with Antonio Nunez Jimenez who was writing a biography on the artist. Lam returned to Paris in time to take part in the collective exhibition Paris-Paris 1937-1957 at the Centre Georges-Pompidou. Shortly afterward, he attended the colloquium on Picasso at Unesco. That same year, he was discerned with three distinctions: France nominated him "Commandeur de l'ordre des Arts et des Lettres"; Cuba the "Orden Felix Varela de Primer Grado"; and Spain the "Order of International Fighter" for his participation in the Spanish Civil War.
Still very active, Lam created six engravings in 1982 to illustrate L'Herbe sous les pavés, a collection of five short stories written by Jean-Dominique Rey, a poet and close friend of Alain Jouffroy's since high school. But Lam's last effort went into finishing the etchings for Annonciation to accompany the poems of his friend Aimé Césaire, a project that had begun as early as 1969. In June, the Pierre Matisse gallery of New York held an exhibition of his works dating from 1942-1951. Despite this loyal relationship spanning over 40 years, Lam was not able to attend his exhibition. After the summer spent in Albissola, he returned to Paris where he died on September 11, 1982. He was incinerated at the Père-Lachaise cemetery in Paris and his family, respecting his wishes, flew to Cuba to confide his ashes to Cuban soil. Meanwhile, on October 20 in Madrid, the first European city he had ever set foot in, the exhibition Homenaje a Wifredo Lam 1902-1982 opened, an itinerant exhibition that continued on to Brussels and then Paris. A national funeral was organized on December 8, 1982, in Havana, during which his wife Lou Laurin-Lam, in the presence of Fidel Castro, deposited Wifredo Lam's ashes in the Colón cemetery.
Anne Egger
(Translation by Unity Woodman)